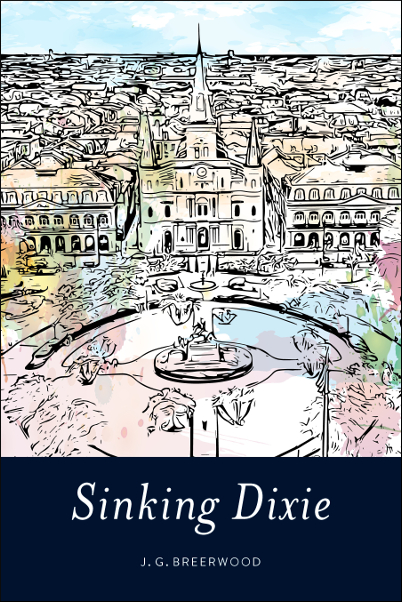 Where to Buy:
Louisiana
Blue Cypress Books (New Orleans)
Maine
Gulf of Maine Books (Brunswick)
Quiet City Books (Lewiston)
Published 2020. Maine Authors Publishing.
After Hurricane Beckham decimated New Orleans and rerouted the Mississippi River, the government abandoned the iconic city that, after decades of coastal erosion, would soon be a waterfront city. Ambitious developers seeking to rebuild the area as a beach resort destination, ruthless, pirates, ravenous animals, armed clergy, gangs, and occupying mercenaries are only some of the obstacles in the way of residents, like Ridge and Mira, who return home to rebuild their city's ruins. Ridge (a bartender) and Mira (a teacher) must reconcile their troubled past together as they persevere to rebuild their beloved city. Mira is devoted to her students and the city's culture, no matter if the district is overseen by a tyrannical captain or overhauled by the Catholic Church. Ridge, hungry and desperate, remains loyal to a mysterious grocer, not giving in to the Manchac pirates…for now.
Particularly Influential Works: The Grapes of Wrath (John Steinbeck); A Bend in the River (V.S. Naipaul); A Lesson Before Dying (Ernest Gaines); Hard-Boiled Wonderland and the End of the World (Haruki Murakami); The Handmaid's Tale (Margaret Atwood); Confederacy of Dunces (John Kennedy Toole); The Goodness of St. Rocque and Other Stories (Alice Moore Dunbar-Nelson); Catch-22 (Joseph Heller); Chita: Memory of Last Island (Lafcadio Hearn).
Influential Musicians: Smashing Pumpkins, Alice in Chains, Cranberries, Kacey Musgraves, The Revivalists, Happy Talk Band, Rotary Downs, Metallica, Kelly Clarkson, Dr. John, Pistol Annies, Garth Brooks, Johnny Sansone, Tab Benoit, Old Crow Medicine Show, Pearl Jam, Better than Ezra, Louis Armstrong, Luke Kelly, and many others…